Current and previous projects affiliated with and supported by the Health & Community Design Lab at the Schools of Population and Public Health and Community and Regional Planning.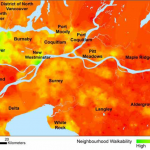 Measuring the physical characteristics of a neighbourhood is the first step to understanding how walkable it is. Walkability is largely a function of the proximity and connectivity between destinations, or the degree to which we can travel directly between places where we live, work and play. The Health & Community Design Lab developed a tool, called the Walkability Index, to measure the characteristics of the physical environment that contribute to walkable (pedestrian-friendly, transit-supportive) neighbourhood design.
---
CHANGE (Changes in Health, Activity, and Nutrition over Geographic Environments) aims to document and evaluate changes in travel patterns, physical activity levels, eating, and built environment factors related to cardiovascular disease risk factors before and after families move within the Metro Vancouver region.
Funded by the Heart and Stroke Foundation of Canada, the Canadian Institutes of Health Research and the Real Estate Foundation of BC. Research Team: Dr. Larry Frank, Dr. Michael Brauer, Dr. Jennifer Black, Dr. Hugh Davies, Cora Craig, and John Millar.
---
NEWPATH (Neighourhood Environment in Waterloo Region: Patterns of Transportation and Health) is an innovative, transdisciplinary research program focused on evaluating how different urban built environments impact a variety of quality of life factors, including; physical activity, diet, access to food, air pollution, and greenhouse gas emissions. The project's study area is the Region of Waterloo, a regional municipality located in south-central Ontario.
Funded by the Heart and Stroke Foundation of Canada, Canadian Institutes for Health Research, and the Region of Waterloo. Study team includes researchers and staff from the University of British Columbia, University of Alberta, University of Waterloo, and the Region of Waterloo.
---
SMARTRAQ (Strategies for Metropolitan Atlanta's Transportation and Air Quality) is a cutting edge transportation and land use research project begun at the Georgia Institute of Technology and continued at University of British Columbia's School of Community and Regional Planning.
Funded by the Georgia Department of Transportation, Georgia Regional Transportation Authority, Federal Highway Administration, Centers for Disease Control and Prevention, Atlanta Regional Commission, Environmental Protection Agency, Turner Foundation, and others. Research Team: Dr. Lawrence Frank with James Chapman, Dr. Stephen P. French, Jennifer Ogle, Peter Engelke, Ann Carpenter and Christopher Leerssen.
---
Developed for TransLink to provide background for its upcoming Regional Transportation Strategy, this report presents a review of the knowledge to-date on the links between transportation planning and health. There is strong evidence of the links between the built environment, travel behaviour, physical activity, diet, and a variety of major health concerns such as obesity, heart disease, diabetes, and some cancers. Active transportation and other sustainable transportation choices offer the possibility of prevention and even treatment through increased physical activity in daily life. This report reviews these links as well as providing practical information on how transportation planning agencies can incorporate health into their work.
---
This report, produced for United Way of the Lower Mainland, identifies how planners and policy makers in the Vancouver region can help seniors age well. Older adults are a rapidly growing proportion of the population in Canada. Many older adults prefer to travel by car and to live in the car-dependent suburban neighbourhoods. Yet, there is growing evidence that these choices are linked to decreased levels of physical activity and increased overweight and obesity. Car dependent neighbourhoods also contribute to social isolation, which can adversely affect mental and physical health.
---
This study explores how the planning, layout and design of neighbourhoods and communities throughout Metro Vancouver relates with the amount of driving, walking, and transit riding residents do on a daily basis. The report also includes analysis of specific linkages between active transportation and the presence of parks and open space within an individual's neighbourhood. Project funded by the British Columbia Recreation and Parks Association and the Bombardier Foundation. Research Team: Andrew Devlin and Dr. Lawrence Frank, with support from Josh van Loon.
---
This project examined the statistical relationships between Body Mass Index (BMI), physical activity and development patterns in southwestern British Columbia. Funded by the Vancouver Foundation and the Bomardier Foundation; carried out in partnership with the Canadian Fitness and Lifestyle Research Institute (CFLRI). Research Team: Dr. Lawrence Frank, Meghan Winters, Brian Patterson, and Cora L. Craig.
---
There is considerable interest in developing public transit and encouraging a mode shift in many North American and European cities. This research project addresses both the social benefits of improving public transit access and the health benefits of increasing transit patrons' level of physical activity through walking and cycling. By studying transit user's trip chains, the built environments and transportation features where transit users live and work, and the effect of programmatic investments, this research project will further inform transportation planners and public health specialists on the transportation policies and programs that support multimodal travel using public transit. Research Team: Ugo Lachapelle and Dr. Lawrence Frank
---
The BAQS project is a combination of research projects aimed at working towards the development of an international strategy for the Georgia Basin – Puget Sound airshed. The project will address particular health and environmental concerns in each airshed by assessing exposures related to specific categories of emissions sources, at both the community and individual level, within each airshed. Funded by Health Canada and BCCDC, an agency of the Provincial Health Services Authority. Principal Investigator: Dr. Michael Brauer.
---
Research to assess the transportation and environmental performance of the Fused Grid focuses on the challenging question of how strong an effect street configuration has on travel behavior and associated environmental and health outcomes. The exciting street network design from the Canadian Mortgage Housing Corporation proposes to accomplish many objectives of housing and transportation and resolve some vexing urban planning issues without resorting to inadequate forms of the past. But will it work? This research provides a much needed assessment. Funded by Canada Mortgage & Housing Corporation. Research team: Dr. Lawrence Frank and Chris Hawkins.
---
This project examined the relationship between children's mode of travel to school and demographics, micro-scale built form, and parental perceptions of safety at 7 elementary schools in the Lower Mainland region. Funded by Act Now BC. Research Team: Dr. Lawrence Frank, Principal Investigator with Jennifer Niece, MA, P.J. Naylor, PhD and Heather McKay, PhD.
---